By Rev. Lewis E. and Sis Treva Mae Manuwal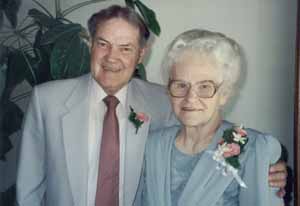 Rev. Lewis E. and Sis. Treva Mae Manual
Treva
· Born July 17, 1922 and lived at 628 Lawrence Avenue, Mishawaka, Indiana, until marriage.
· Graduated from Mishawaka High School, Mishawaka, Indiana,1940.
Lewis
· Born Dec.14, 1918 in Oswego, Illinois; moved to Indiana at age two; lived in several places in Mishawaka, Indiana, and South Bend, Indiana. Went to be with Jesus Sept 21, 2004
· Graduated from Mishawaka High School, Mishawaka, Indiana, 1938.
· Received a track scholarship and attended Pittsburgh University for 2-1/2 years where he was training for the Olympics when he felt the call to the ministry.
Lewis & Treva
· Met in high school.
· Married November 1, 1940, in Rev. G. B. Rowe's home.
· Wedding attendants: Worthy & Marjorie Rowe
· No family attended wedding; went directly to young people's meeting. Afterward some friends tied cans on their car – the full extent of their celebration!
· Worked a year in South Bend, Indiana.
· 1941-42 moved to St. Paul, Minnesota, where Lewis attended Apostolic Bible Institute for one year. Treva worked in a sewing factory.
· Returned to Mishawaka, Indiana. Lewis worked at Studebaker's.
· Sharon Lee was born May 19, 1943. Here, they rented their first home.
· Evangelized for five years with one child from coast to coast.
· In 1948 lived in Mishawaka, Indiana. Lewis sold real estate.
· Suzanne Hope born April 13, 1948.
· In fall of 1948, Lewis felt call to Sunbury, Pennsylvania, to have house meetings with a handful of people. God blessed, built a new church building and in five years had a record attendance of 526.
· Becky Lou born in 1950 in Sunbury, Pennsylvania.
· Nannette Jo born in 1952 in Sunbury, Pennsylvania.
· In 1954 felt call to be missionaries in Oahu, Hawaii, where they pastored for two years; church grew to record attendance of 126.
· 1n 1956 returned to Pennsylvania and started a church in West Milton, Pennsylvania; stayed three years.
· Vicki Ann born in 1958 in Allenwood, Pennsylvania.
· In 1960 moved to Harrisburg, Pennsylvania, to pioneer a new church; built a new building; reached record attendance of 100.
· 1963-1964 evangelized for two years throughout the United States and Canada.
· In 1965,went to Racine, Wisconsin; pastored there until 1970; built new building; church thrived, reaching a record attendance of 676.
· 1970 to 1978 – evangelized a few years; then lived in Phoenix, Arizona, traveling out of there until Treva was diagnosed with breast cancer in 1976 (surgery, chemotherapy) and stayed there until she recuperated.
· 1978 to 1979, left Phoenix to return to the evangelistic field; however, Lewis became ill with a pituitary tumor, underwent surgery and then settled in McComb, Mississippi, for a year to recover.
· 1980-1983, took over pastorate of church in Hampton, Virginia; built new church building; record attendance of 125.
· 1984-1986 evangelized, then pastored in Mishawaka, Indiana; built new church; record attendance 125.
· 1987-1988 evangelized throughout United States and Canada, then took an interim pastorate position in Albuquerque, New Mexico.
· 1989-1990 pastored in Milton, Pennsylvania.
· 1991-1994 moved to Grand Junction, Colorado, assisting in son-in-law's church and evangelizing out of there.
· 1995-1996 evangelized across the country.
· Retired in Richmond, Virginia, in 1997.
· TOTALED 54 YEARS OF MINISTRY from 1943 to 1997